Casting database software
Your fine-tuned casting database software.
Casting42 is a feature-rich all-in-one Casting Database software solution that prioritizes ease of use, customizability, mobile access, scalability, and high security standards. No industry professional should have to work with an incomplete or low-grade toolkit.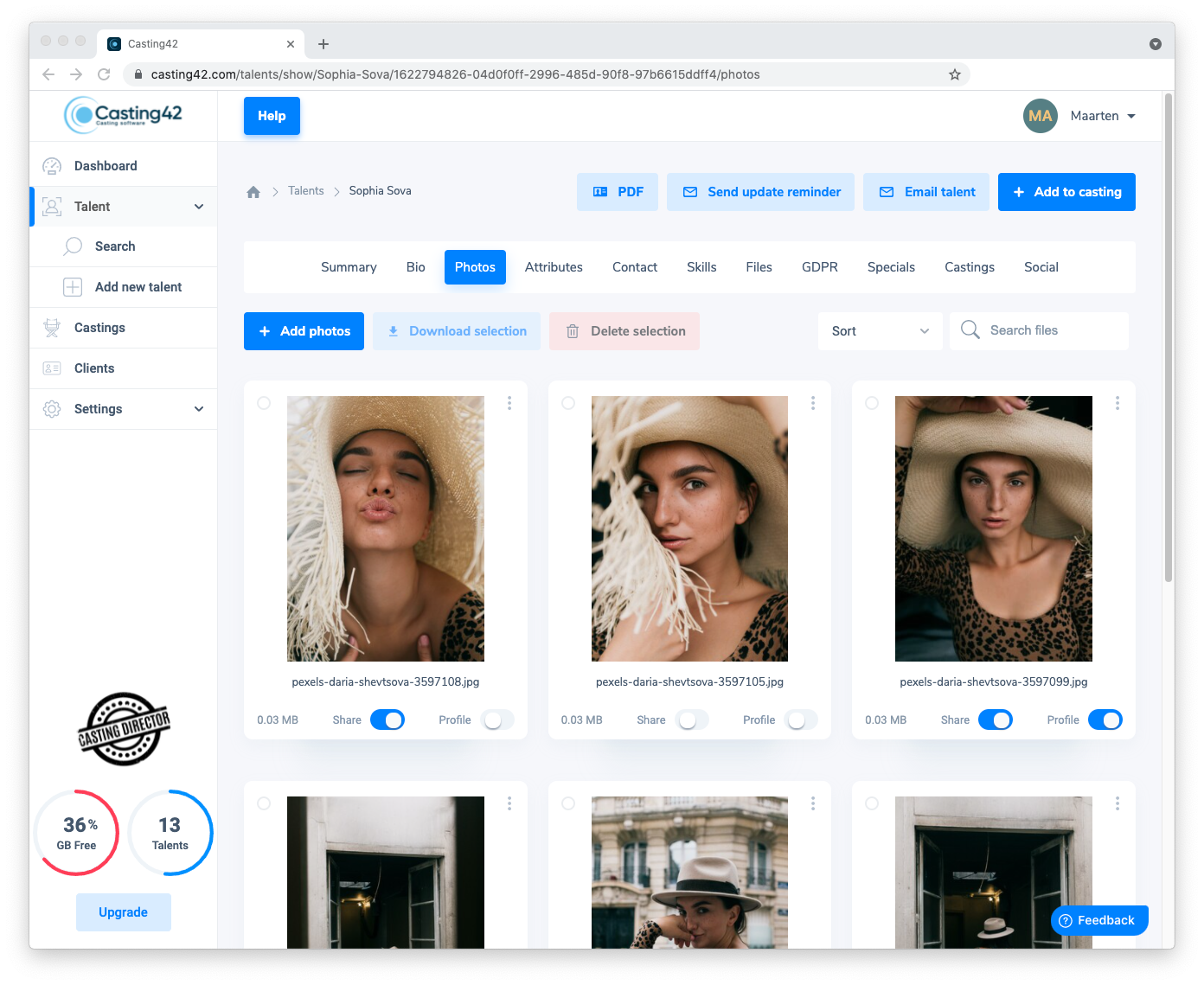 Extensive and custom-built features
Start every new casting project knowing that you have the means to properly and efficiently organize all relevant files, talents data, and communications.
READ MORE:FEATURES

Intuitive user interface
Get to work immediately without having to go through lengthy tutorials: our casting database software is designed to boost your productivity from the get-go.
READ MORE:FEATURES

Instant scalability
Always be ready and prepared for exciting new challenges and opportunities, knowing that your casting software solution can scale up accordingly with the click of a button.
READ MORE:Features
GDPR proof your Casting database software

Your cloud-based casting database software


Easy-to-use casting database software for professionals


Advanced search, customizability and other features


Securely access your casting database from any device

Performing at your very best is only feasible if you come prepared. In the casting industry, that means having the right means at your disposal to quickly find what you need, make a relevant selection, neatly sort and store important files, and easily reach out to — and share documents and other data with — all involved parties.
Casting42 is a unique cloud-based casting database software solution that allows casting agents and other industry experts to securely store all their project files, user data, and communication details on a central platform that is accessible from any device and ready to scale up alongside your growing portfolio.
The Casting42 solution is designed to unburden you by removing the need to open separate programs for various fie types, streamlining your casting operations, and allowing secure access from anywhere. Moreover, our smart notifications and automated requests to casting talents for recent profile information ensure that you are always on top of your game.
Customize how your interface looks and how you can interact with our casting database software, quickly find and filter the results you need with our search options, expand your operations without having to worry about database limitations, and easily check up on projects while you are on the go.
Manage your casting
Start your private casting database with Casting42

Get up and running in no time, no installation required


Ready for the GDPR? upgrade your security


Casting online with advanced and customized features


Build up your own talent portfolio

Just like having a smartphone eliminates the need to carry with you a physical calendar to keep track of appointments, a notebook for writing succinct remarks, and a laptop for being able to read your email, there no longer is any need to open a separate application every other minute only to be able to work with different file types. Our all-in-one casting database software is designed to unburden you by allowing you to centralize not only your files and data but also your communications and your entire workflow. Do more with less effort.
Casting42 is designed by and for industry professionals and offers a robust platform for managing and optimizing any casting enterprise. Casting42 comes with customizable features and interfaces, extensive search options, centralized data storage, mobile accessibility, inherent scalability, and optimal security.
With Casting42, you will always remain in complete control of your data. We share no data with third parties and go to great lengths to ensure that your data is always secure, both at rest and in transit.