Casting software
Find the talents you need faster
If You're a Casting Director or Talent Agent, You Need Casting42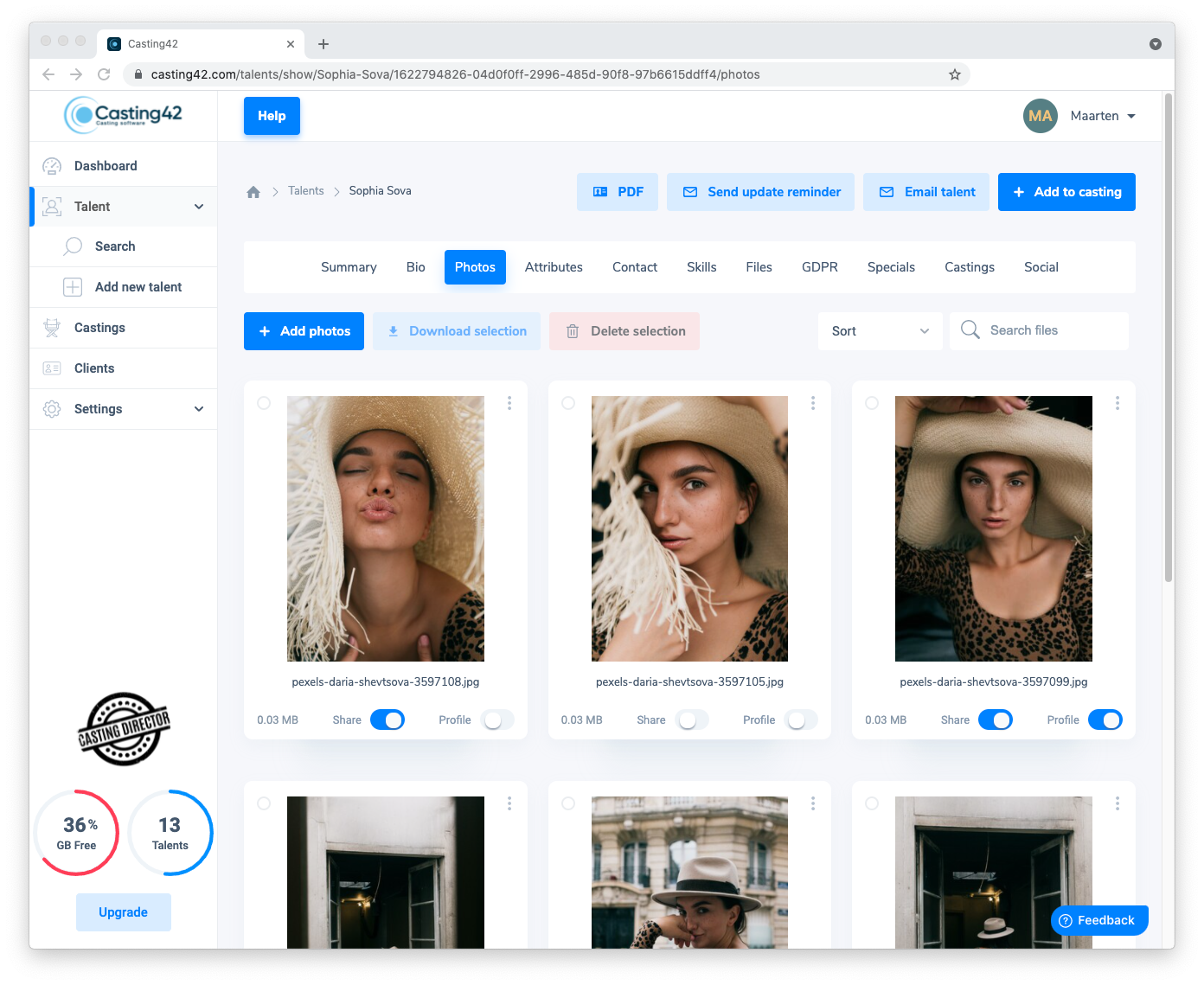 Get Feedback From Everyone on Your Team
Forget about calling, leaving messages and waiting for a callback. With Casting42, your employees, agents, team members and shareholders can communicate instantly. Show them your suggestions and get their feedback in minutes instead of days.
READ MORE:FEATURES

Create Dazzling Presentations
With the ability to upload and search through thousands of applications, you can put together a great-looking casting list. Your list will include legal forms, availability, management information, location and contact information.
READ MORE:FEATURES

Real-Time Reporting
Get constant updates on your project with our intuitive, fully customizable casting dashboard. Create charts and graphs with one click, monitor how many applications you're getting, and chart your workflow with ease.
READ MORE:SECURITY
Keep Clients in the Loop

Setup your unique casting database


Organize and export your casting database


Manage your talent data and media more efficiently


Approve, deny, find, select, propose talent faster

Keep clients, producers and shareholders in the loop with regular updates. Our easy-to-use database quickly finds the files and information you need and shares them across devices and platforms. You get contact management, file sharing and fast uploads in one easy-to-use database.
Every casting project is a nightmare of paperwork, files, applications, legal forms and mountains of data. With Casting42, those nightmares are over. We make it easy to store, find and manage all that data in one secure, portable application.
Casting42 is an all-in-one casting database solution that allows you to automate your workflow, securely access your data from anywhere, and receive automatic notifications for information that is relevant to your next casting success story.
The European Union's General Data Protection Regulation (GDPR) laws strictly regulate the use of personal data. We're fully compliant with those regulations. Can a US-based database give you the same assurance? Don't let your casting software get you in trouble. If you're ready to save time, money and headaches on your next casting project, you need Casting42.
Casting software, what Sets Us Apart
User-Friendly Interface

Get Feedback From Everyone on Your Team


Create Dazzling Presentations


Real-Time Reporting


Stay GDPR Compliant

Casting42 is a user-friendly casting software solution that requires only an internet connection. You can check talent, get updates, and communicate with your entire team by logging on from any location. You don't need any specialized technological knowledge or equipment. If you're able to read this paragraph on your device, you can use Casting42.
Whether you're casting three people for a commercial or 10,000 parts and extras for a feature film, Casting42 can get you there with a fully scalable database that does it all. In just minutes, you can create detailed, professional-looking presentations showcasing each cast member, their photos and videos, audition notes and more.
Mobility and time are at a premium in your business, where every wasted minute can eat into your budget. Casting42 is available anywhere you can log onto the internet. It requires no specialized knowledge, so you don't have to worry about learning a whole new casting software system. You and your team can start using it in minutes.
Are you tired of the routine paperwork and administrative tasks that add unnecessary hours to your day? Casting42 helps you stop wasting time on that stuff so you can concentrate on what you're good at. Our all-in-one solution streamlines every aspect of your casting project.